Storage and on-demand hot water heaters.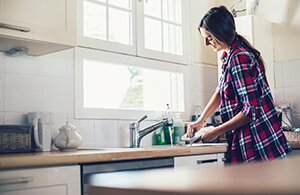 A.O. Smith, Bradford White and Bosch water heaters.
Leffler Energy has electric, natural gas and propane energy-efficient storage and tankless hot water heaters from major brands like A.O. Smith, Bradford White and Bosch, all with the capacity to handle your hot water needs.
You can also rely on us to be there for you 24/7, to take care of any hot water heater installation, service and repairs. Call 877.827.9317 today to learn how our team can help you decide which water heater is best for your needs.
"I had a very positive experience over the weekend with Leffler Energy and their service technician. It's never a good thing to see a hot water heater pressure valve leaking, especially on a Saturday morning! I called their 800-number and was able to connect with a dispatcher immediately. She was thorough, asking good questions and confirming my concerns. The technician arrived right on time, and immediately diagnosed and repaired the issue. He was friendly, courteous, and professional in his work and step-by-step explanation of the problem that had occurred. Thank you, Leffler!"
- Linda L.
Energy-efficient hot water heaters.
In most homes, heating hot water can add up to nearly 20% of its energy costs! Latest energy efficiency standards note that hot water heaters under 55 gallons will see about a 4% boost in efficiency. Hot water heaters with a capacity of 55 gallons or more could lower utility bills by 25%-50%.1
Hot water heater installation and repair.
Thinking about installing a new hot water heater? Please call us and one of our team members will come visit you to provide a no obligation assessment and figure out the size and type of energy-efficient hot water heater that will best fit your needs, clearly detail the installation process and guide you through making this important decision.
Tankless and storage hot water heaters – what's the difference?
Tankless water heaters.
These heat water directly without using a storage tank. Turning on the hot water faucet or tap sends cold water through a pipe into the unit. The water is then heated by a natural gas burner, propane burner or an electric element, providing a constant supply of hot water on-demand.
Storage water heaters.
Water is heated in a similar way to tankless heaters but storage heaters use energy (natural gas, propane or electricity) at a slower rate, storing heated water for later use.
Whatever hot water heater you ultimately choose to install in your home, whether it's powered by natural gas, propane or electricity, Leffler Energy partners with major manufacturers to provide you with the best, energy-efficient system to meet your needs.
1. Source: http://www.consumerreports.org/cro/water-heaters/buying-guide.htm March 2016