Agricultural and industrial.
Agricultural services, it's in our roots.
Our business was born by serving the farm trade, and our continued success is rooted in service to agriculture - that's why service to farmers today is so important to us. We understand that as a business, customers want and need reliable products and dependable services to keep your agricultural operation running efficiently and cost effectively.
Our complete range of products and services that we can offer you include:
Gasoline
Diesel
Heating Oil
Kerosene
Service and installation for heating & cooling equipment
To assist you in weathering seasonal production demands, we offer low market rates with payment options to maximize your cash flow flexibility as well as delivery service whenever you need it.
With 8 locations and 10 storage facilities throughout central and eastern PA, we'll conveniently deliver what you need when you need it. And our HVAC service experts are also ready to install and maintain your residential and commercial heating and cooling equipment all year long!
Farm-related businesses have counted on Leffler Energy for more than a generation. Now that's reliability!
Call us today at 877.827.9317 or click here to contact us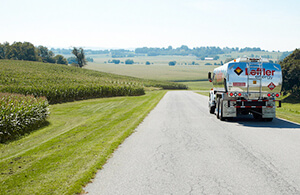 Industrial services.
Leffler Energy provides service to industrial/commercial heating and air conditioning units. The highly skilled, certified, dedicated industrial team also offers a wide variety of commercial/industrial HVAC services.
Contact us today to learn how we can help your business.
Call 877.827.9317 for more information.