Total home comfort services.
The Leffler Energy story began over 180 years ago in the same southeastern PA area that we still service to this day. Throughout the years, we've been helping our local neighbors manage all of their home heating, air conditioning and other home comfort needs with our services - all designed with you as the #1 priority.
Home heating oil and propane services.
Whatever the weather, whatever the time, any day of the year, we will always deliver. We've never run out of oil and our heating oil deliveries are automatic.
Our local customer service professionals, drivers and technicians all understand your particular home comfort needs because they all live and work where you do, with 24/7 service and support, all year!
Heating oil pricing and payment plans to manage your heating costs all year!
The latest, energy-efficient heating equipment
Equipment repair and installation services
Equipment service plans
Special offers on heating equipment
Propane delivery and services through Patriot Propane, a Leffler Energy family company.

Home heating oil, propane, equipment and services to help you save
The benefits of choosing home heating oil infographic
Air conditioning services, equipment, installations and repairs.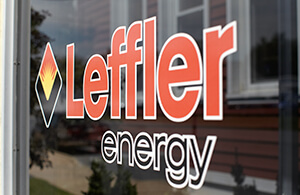 We know how hot PA summers can get. You can count on us to keep you cool and save in the summer, too with energy-efficient AC equipment, service plan options, special offers and 24/7 service and support.
Our AC technicians will also ensure that your new or current AC system is installed correctly and running at peak efficiency to help you save money.
Energy-efficient AC Systems
Special offers on AC equipment and services
AC tune-ups and service plans
AC equipment repair and installation services

Air conditioning services and equipment to keep you cool
Trust us for all of your other comfort services.
Helping you feel comfortable at home is what we're all about. That's why we also offer other home comfort services, including:
Humidifiers, duct cleaning and indoor air quality systems
Natural gas equipment and service
All of your agricultural and industrial heating and cooling needs


Home really is where the heart is. That's why we do our absolute best to make it more comfortable for you, every way that we can. Find out why your PA neighbors choose us for their home comfort needs.
Humidifiers, indoor air quality, natural gas equipment and more
"My older brother, who lives alone, was having difficulty cutting the grass while your tech was on a tune-up call. Without being asked, the tech checked with dispatch about his schedule, then came back on his lunch break to cut the grass for my brother! I just had to let you know what a kind person he is. My brother and I appreciate what he did very much
- Leffler Energy Customer
Join the Leffler Energy family today. Call us on 800.984.1411!