Heating oil services – oil prices, delivery and equipment.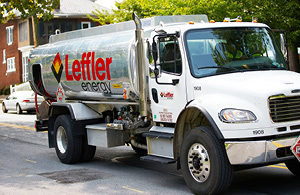 Central & Southeastern PA's full service heating oil company
For over 100 years, we've been keeping our PA neighbors warm in the winter with lower oil prices and a range of heating oil programs, plans and services. You can count on our service and support team to deliver your heating oil in any weather, around-the-clock, every day of the year.
The local name you can rely on for all of your heating oil needs.
As we're folks who live where you do, we know the area and what every winter season brings. That's why, more than any other oil company, we know your particular heating oil requirements that match your budget needs, too.
"I use Leffler Energy for a non-profit organization I am part of. We use a lot of oil between our 3 furnaces. Amy D. at Leffler has been extremely helpful and responsive in getting our account set up, answering all of my questions, and getting us oil as soon as I email her that we are getting low. Before choosing Leffler, I shopped around with several other oil and service providers but Leffler had the best customer service and timely responses out of all of them. Their prices were very competitive with everyone else I spoke to as well."
- Kyle B.
Heating oil delivery.
Our FREE automatic heating oil delivery system ensures that you won't run out of oil and we have the local resources to make sure that we will never run out of oil either, with around the clock delivery service and support, even in the worst PA winter weather.
The benefits of choosing home heating oil.
We have a full infographic on the benefits of choosing home heating oil over natural gas. From dependability to versatility, we list all the reasons and benefits you gain by switching to home heating oil with Leffler.
Lower heating oil prices and pricing plans to help you save.
With lower heating oil prices and flexible heating oil pricing plans, we can really help you better manage your energy costs and help you save. None of our plans have any enrollment or sign-up fees and you can choose from Variable and Ceiling Plan options.
Weather emergency services.
To make sure that we manage the appropriate resources to get customers the help that they need quickly, we ask that you please review our winter weather emergency services tips, guidelines, and helpful information.
SmartPay.
Our SmartPay plan helps you avoid any unexpected large payments during the winter months and manage your oil costs by spreading them throughout the year. After a quick analysis of your annual energy bills, SmartPay determines a monthly payment for your heating oil bills - and there's no enrollment or sign-up fee!
Service and protection plans.
We offer multiple comprehensive heating oil ComfortCare service plans to suit your individual needs. Choose the right level of service and protection you want and need, from complete 24/7 coverage protection to a single annual tune-up service from our Bronze, Silver, Gold or Platinum heating oil service plan options. Our CARE and ProGuard heating oil protection plans also provide total peace of mind with coverage for your home and the environment in the unlikely event of an oil release.
Heating oil systems – Boilers and furnaces.
You can count on us for the energy-efficient heating oil systems you need to help you save energy, money and the environment. By having us install a new heating oil system now, you'll benefit from our quick installation, professional training on your system and improve your home's value. You can also take advantage of great financing options! Of course, our service teams are always there for you 24/7, whatever the weather.
Heating oil delivery areas.
When it comes to local families, agricultural and industrial customers, we look after our own, delivering heating oil throughout central and southeastern PA.
When it comes to providing central and southeastern PA with all of the heating oil services they need, count on the only local name you need to know, Leffler Energy.
Experience the Leffler Energy difference and call 877.827.9317 now!