Ductless mini-split air conditioning services.
In recent years, the latest, energy-efficient ductless mini-split systems have become the most popular alternative to central AC. It makes perfect sense when you learn the reasons and benefits why:
No ductwork means more efficiency – easy installation with no expense or hassle of installing ductwork.
Ductless units are small, compact and less expensive than central AC
Not as loud as window units or central AC systems – they are virtually silent.
Energy efficiency – You lose up to 40% for traditional central AC systems and less than 5% with a ductless unit.
Individual zone control helps you cool one specific area of your home rather than all of it.
How ductless AC systems work: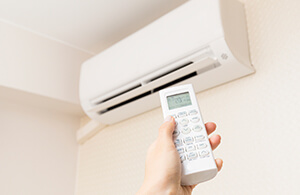 Just like any central AC system, ductless mini-split AC systems place the noisy compressor and condenser outside the home. However, ductless AC systems require no basement- or attic-located evaporator units and eliminate the need for bulky ductwork.
Piping can often be routed through walls to maintain the aesthetics of your home - no more bulky AC system components
Ductless AC systems come in numerous capacities and configurations to fit even the most difficult spaces.
Each unit has its own programmable remote for individual zone control – the condenser can be connected to multiple units.
Ductless mini-split systems provide great energy savings all year round.
A great advantage of a ductless AC system is that it works in reverse in winter to absorb heat from the air outside and moves it indoors to heat your home for efficient year round cooling and heating. It also functions as a heat pump for your home.
Contact us today for a FREE room assessment!
We'll have one of our local team members come out to visit you and help you determine the best equipment to suit your budget and comfort needs. They will also help you understand the installation process. Once your system is installed, if you need any service plans or repairs, our local team of professional technicians are always there to help you, 24/7 – whatever the weather.
Call 877.827.9317 for more information and more offers!