24/7 customer service.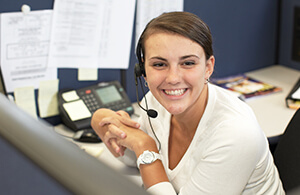 When it comes to customer service and support, we're always here for you, 24/7!
That's the bottom line.
You will always talk to someone on the phone.
You will always have techs ready to help you.
With any issue, at any time, day or night, in any weather!
See what our customers have to say:
"What wonderful, caring people you are. Not only did I receive my heating oil delivery but I also got your beautiful get-well card and it was a very big boost to me on a day that was filled with problems. Thank you!"
- Elynore U.
"Your guys were here this morning and did a great job! They were very quick, professional and two of the nicest guys who have ever been to my house to do work. I don't know how often you hear from customers except to complain about something but I wanted you to know that your guys are top notch."
- Mark T.
"I was hit really hard this winter by some very unfair pricing. It never hurts to do a little research to check on vendors and to not accept slow responses customer's needs, like my previous provider. I appreciated your quick response time to my pricing questions, so it's their loss and your gain. It's just unfortunate that I didn't find you earlier, as you missed out on the big heating months of the year with me!"
- Tim A.
"I've been a customer for 29 years and want to let you know that the tech that answered my water leak call was an amazing young man. He was very helpful, knowledgeable and took his time to explain the benefits of a service plan to me. You should be proud to have him as an employee."
- Harold O.
"During a snowstorm my natural gas furnace became disabled. I wasn't able to remedy the situation, so I called Leffler Energy for assistance. Within minutes of calling the answering service, I got a call back from your technician. He offered to drive out and help me but it was apparent that several helpful tips from helped diagnose and solve the problem over the phone. He was a significant help to me."
- Jacob S.
"One of your service techs was on a tune-up call with my older brother, who lives alone. My brother mentioned how difficult it was for him to mow his lawn and that he doesn't like to bother his son, who has his own family, to always do it for him. Your tech took it upon himself to check with dispatch first about his schedule that day, then told my brother he'd come back on his lunch break to cut the grass for him. The riding mower didn't work, so the tech even had to push the gas mower along! I just had to let you know what a good service tech and very, very kind person he is. My brother and I really appreciate what he did very much."
- Clare D.
Having problems with your heating or AC unit? We offer emergency repair services