Bosch Tankless water heaters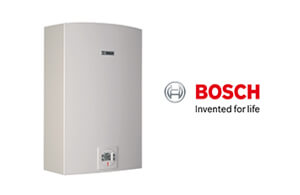 These heaters can provide an endless supply of hot water on an energy-efficient gas tankless water heater. No company builds a more complete line or gives you a longer warranty on equipment.
Tankless water heater overview and key features
More energy-efficient than conventional water heaters
Lasts longer than conventional water heaters
Provides an endless supply of hot water and precise temperature control
Water "on demand" saves money by heating water only when you need it
May qualify for federal tax credits
Bosch tankless water heaters pricing and service
Pricing
Call Leffler Energy for pricing at 1.877.679.9178.

Service
The key to maintaining the longevity of your hot water system is regular service. Our local, certified service technicians are all licensed and bonded. From system installation to tune-ups on existing equipment our team is available 24/7 to help, whenever you need, whatever the weather.

Find out more about our hot water system service plan here.