Bradford White water heater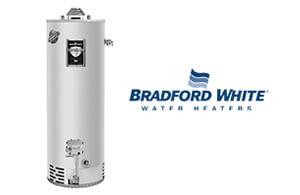 The Bradford White's Defender System Atmospheric Vent water heater utilizes a draft diverter and is atmospherically vented with capacities ranging from 30 to 50 gallons.
Bradford White water heater key features
First hour rating of 70 gallons
Intelligent diagnostic system assists in troubleshooting
Maintenance free–no regular cleaning of air inlets or flame arrestor required
Exclusively engineered lining provides superior corrosion protection
Non-CFC foam installation reduces heat loss and improved efficiency
Bradford White water heater pricing and service
Pricing
Call Leffler Energy for pricing at 1.877.679.9178.

Service
The key to maintaining the longevity of your hot water system is regular service. Our local, certified service technicians are all licensed and bonded. From system installation to tune-ups on existing equipment our team is available 24/7 to help, whenever you need, whatever the weather.

Find out more about our hot water system service plan here.